Category —
General
I travel a lot and every time I see a solider in uniform, I want to say "Thank You".
Some times I do. Other times I balk – either because the interaction is too quick or I'm too much in my head planning, getting ready, etc, etc, etc. Honestly, I really don't know why I don't speak up every time – they certainly deserve that… The Gratitude Campaign makes this REALLY easy to do. Its a simple hand gesture that quickly and silently conveys the thanks that you feel in your heart but can't always get off your lips. Tell them how you feel, its the least we can do!
Watch the quick movie below for a full explanation.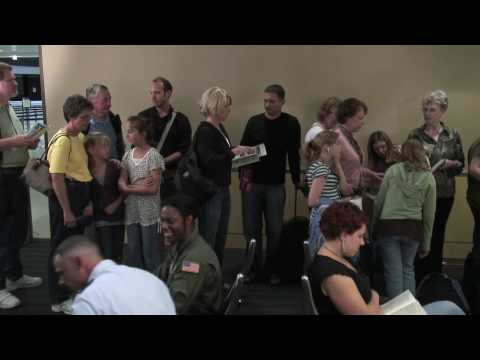 God Bless the men and women in uniform!
Wow, now THAT is some driving!
Now, if only all Romans drove that way…  My memories of driving in Rome are close to nightmares.  I clearly remember driving to a train station and following the signs.  I pulled up to one intersection and the sign for the "Stazione" had arrows pointing BOTH left AND right!   WTF???  Maybe that's why the trains in Italy are never on time anyway – to give you extra time to find the dang place!  hehe
Enjoy the video!
http://blog.miloco.com/wp-content/uploads/2009/08/italianpolicemotorcycledrillteamdisplay.flv
Just saw this and thought it was not only funny, but largely true… 
An Experiment
Start with a cage containing five apes.
In the cage, hang a banana on a string and put stairs under it. Before long, an ape will go to the stairs and start to climb towards the banana. As soon as he touches the stairs, spray all of the apes with cold water.
After a while, another ape makes an attempt with the same result – all the apes are sprayed with cold water. This continues through several more attempts. Pretty soon, when another ape tries to climb the stairs, the other apes all try to prevent it.
Now, turn off the cold water. Remove one ape from the cage and replace it with a new one. The new ape sees the banana and wants to climb the stairs. To his horror, all of the other apes attack him. After another attempt and attack, he knows that if he tries to climb the stairs, he will be assaulted.
Next, remove another of the original five apes and replace it with a new one. The newcomer goes to the stairs and is attacked. The previous newcomer takes part in the punishment with enthusiasm. Again, replace a third original ape with a new one. The new one makes it to the stairs and is attacked as well. Two of the four apes that beat him have no idea why they were not permitted to climb the stairs, or why they are participating in the beating of the newest ape.
After replacing the fourth and fifth original apes, all the apes, which have been sprayed with cold water, have been replaced.
Nevertheless, no ape ever again approaches the stairs. Why not?
"Because that's the way they've always done it, and that's the way it's always been around here."
And that's how corporate policies begin.
I love my ISP.
Know why?
And even clear across country:
Nuff said.
In the last 7 years in CA, we have been on fire for 5 of them.  I've never sustained any direct damage, but the cleanup is always dreadful.
God bless the men and women who fight these things, and Lord help the people in direct danger.  I hope we are not one of them soon.
This was the view from my house:
UGH.
Auto lust is in the air, and it seems to be spreading.
Could this car get me to buy American again?  Just maybe.  Its a technophile's playground.
Now, don't get on my case about NOT buying American.  These days, my US assembled ULEV Honda is more of an American car than your average Mexican built Chrysler.  And, I've more than paid my dues with my other car, a 10 year old Cadillac SLS.  Its the second Caddy I've owned, after the first one died on me in roughly a year.  Never again!  Should have thought of that before getting my current one!  Ha!
The biggest question with the Lincoln is, will I fit in it?  Well, OK – that's probably second to will I ever be a non-cheapo and actually buy it?  Probably not.
*SIGH*  Being fiscally responsible really sucks.